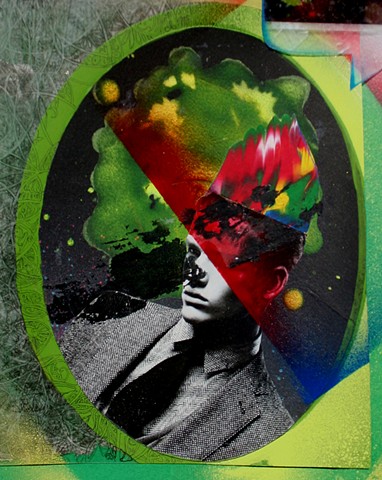 Rob Bondgren, Loretta Bourque, and bourbon
Center on Halsted
3656 North Halsted Street
Chicago, Illinois
April 8- May 17, 2016
Opening reception: Friday, April 8, 2016
7:00-9:00pm*
Over the course of the past 25 years, artists Rob Bondgren and Loretta Bourque have developed a unique personal relationship that has had a profound impact on both their individual and collaborative art-making practices. Having collaborated since the 1990s, in 2012 they began producing their first body of collaborative work under the name bourbon, a combination of their surnames, and a nod to Bourque's New Orleans' roots.
Mixing and layering a wide range of images, and confidently asserting their individual and shared aesthetic sensibilities, their process also relies on the potential for something new and exciting to happen through the critical element of chance. Humorous or intensely personal, and most often both simultaneously, bourbon's images are a direct reflection of the artists' enduring relationship.
This exhibition will introduce a small group of new bourbon collaborations, and highlight a selection of the artists' individual and collaborative works previously exhibited in 2014 at Linda Warren Projects in Chicago.
*The Center suggests a $5.00 donation from visitors to the exhibition on the night of the opening. The artists fully support this request, which helps the Center continue to provide important community services and opportunities for artists to exhibit their work in a unique venue that advocates for diversity and inclusion in its public programming.